Before we can see our preferred band Black Bomb A at La Poudière at Belfort, France, we pay attention to very interested bands as support. First the locals "Slaughterers", which played classic 90s Death Metal like Asphyx, Unleashed or Entombed. Groovy parts changed with Thrash- and Speed-Metal. Their friends and also some Metalheads liked it, they moshed, they created a circle pit and they managed to celebrate the first wall of death after 15 minutes.
15 minutes later, "Eleventh Sunrise" from northern Alsace, entered the stage. And now we got closer to the musical direction, what Black Bomb A will play later.
The four young guys from "Eleventh Sunrise" offered us a complex kind of progressive Nu-Metal, a mix between Metalcore, Deftones, and the French band Dagoba, on a high technical level. Okay, we like music, that demands our brain, but anyway, we also need a chorus and a melody to get moved and for keeping the music in our minds. Despite of all technical skills and elaborated songs, nothing stayed after one hour of hard work on the stage. What a pity!
And now, at 23.15h, the intro started and the meanwhile 300 spectators were keen to destroy the ancient arsenal with the soundtrack from "Black Bomb A" (BBA). After six years of being apart from the scene, Arno, second singer from 2004 to 2008, has returned to BBA and everybody awaited him and cheered the band. Also the band was motivated to show the crowd that BBA is still THE band in French Metal- and Hardcore since 1995. Needless to say that the spectators sung along all the songs, did crowd surfing, banging, running, jumping and so did the band. The setlist contains old stuff like "Born to die" "Down", the classic tunes "Mary", "Look at the pain", "Law´s Phobia" but also the newer ones like "To reactivate", "Tales from the old school", "Come on down".
What can we say? We saw the band around 30 times but this concert was the kick-start for a far better future with a far better singer and performer than his predecessor Shaun.
We saw Karma to Burn on many occasions: 2011 at the Hellfest in front of 10.000 spectators, one month later at small club in Heidelberg / Germany in front of 25 spectators, both with Rich on bass, Rob on drums and Will on guitar. 2013 at the Hellfest again, with Evan as a new drummer and Will on guitar in front of 10.000 spectators and now with Rob from Exploited as substitute for Rich Mullins on bass, Evan on drums and Will on guitar, in front of 50 spectators. There is no in-between between absolutely big or small, same as their music with just numbers as song-titles, no interaction with the audience, no vocals, just one riff after another, one hookline after another, with a guitar with no effects but with at least 4 different sounds. But the guys did celebrate before the gig with their fans. That was their kind of contact and after 90 minutes of hard riffing guitar, tribal drumming, we had that characteristic Karma to Burn ringing in our ears and the traditional Karma to Burn pain in our necks. What a concert!
But, that wasn´t all on this evening: The kickoff for this magic evening was a young swiss band called "Sons of Morpheus". What started as a jam-session became within 20 minutes to concentrating swirl which caught all the spectators to dance, to bang and to play air-guitar. These three young guys really learned their lessons well in the history of 60s music; a trace of Hendrix, a groove from "Cream", a rhythm from "Mountain", with a hypnotic voice, a crazy drummer and a bass as the second guitar like "John Entwistle" from "The Who". What if a young, unknown band sells 20 copies from their CD at one show? Great!!!
And when there is a lot of light, there is also a lot of shadow. "Hot running Blood" had the worst job this evening, they tried everything; more light, louder, more guitar, more animation but they failed. They wanted too much with their more psychedelic inspired music, but nobody wanted to hear it. A shame but it can happen.
Incantation + Morgoth + Bolt Thrower, Munich, 9/26/2014, Backstage, sold out, 1300 spectators
Three classics of Death Metal during one evening! What a crowd and what an expectation, because Bolt Thrower just played a few gigs at chosen festivals in Germany, like Party.San-Festival in 2008, RockAera-Festival in 2009, Metalfest in 2010 and some more. So most of the spectators came to Munich just to see Bolt Thrower.
The Concert kicks off at 8pm with Incantation, one of the pioneers of classic US-Death Metal. No song and no announce could be recognized due to the guttural grunts of John McEntree, the "vocalist" and the man on "rhythm guitar". It´s in brackets because there was no chant, no clear guitar sound, no structure during the songs, just destroying blastbeats, ultra-slow breakdown-parts, comparable with Cannibal Corpse, Suffocation or Morbid Angel. The slower parts had more common with Doom-Metal à la Cathedral. Anyway, after half an hour, the gig got boring and we suffered 15 minutes more until this concert was over.
The music between Incantation and the following german Death Metal-Pioneers Morgoth  - Iron Maiden, Killers - was a remedy for our ears.
Morgoth entered the stage and another hour of simple and classic Death-Metal started. After three songs the sound problems disappeared and Morgoth started for a ride through their musical history. The band played mostly songs from their debut and also some new songs, which also sounded quite old-school. The audience cheered quite friendly, because the people simply waited for Bolt Thrower. The lights on stage were just crap, I thought, it was the lights for the support, but also the following Bolt Thrower had that crappy light.
Setlist Morgoth
1.     Cursed 
2.     Body Count 
4.     Suffer Life 
5.     Sold Baptism 
6.     God is Evil 
8.     Resistance 
10.  Die as Deceiver 
11.  Burnt Identity 
12.  Isolated 
13.  Pits of Utumno 
Finally, after two hours of mediocre music, the band for all the people waited for, entered the stage with their opening hymn "Battle for Britain" and all the barriers broke down as the band entered the stage and started their set with the song "War".
1300 people finally moved themselves, the first circle pits and crowdsurfers appereared, the band was banging, a massive and clear sound during 1,5 hours of this special kind of Death Metal poured through the venue, the music was much more slower and heavier than from Morgoth or Incantation, groovy like a rolling bulldozer or tank in the battlefield, very unique. Nothing special happened on the stage during the next 1,5h, a few announcements by Karl Willet and just this massive, brutal sound and the mainly slow and crushing parts. My personal highlight was the "IVth Crusade", with this simple opening riff and the army of powerchords, galloping drums and effective breaks.
It took time to appreciate "Bolt Thrower" and their kind of Death Metal, but the fact, that I did my first look on the watch during the first encore, showed me, what a great concert it was.
Despite the light.
1.     Battle for Britain Theme 
2.     War 
3.     Remembrance 
4.     Mercenary 
5.     World Eater 
6.     Cenotaph 
8.     Warmaster 
11.  The IVth Crusade 
13.  ...For Victory 
14.  The Killchain 
15.  Powder Burns 
Encore:
16.  Where Eagles Dare Theme 
17.  At First Light 
Encore 2:
19.  Silent Demise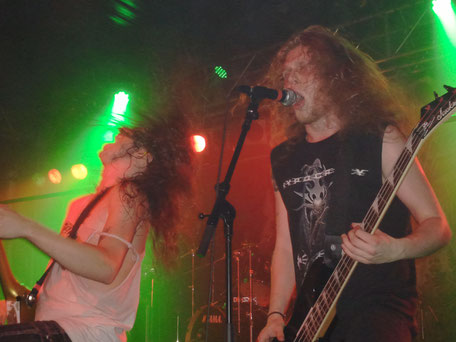 Yes, it was almost a private concert for all the spectators. Most of them looked like the bands with their skinny trousers, basketball-sneakers, basebal-caps with suicidal tendencies written and with patches all over their jeans jackets. It really was the feeling I had, when I saw all the Thrash Metal-Bands during the 80s. Unfortunately we missed "Evil Invaders" but the following madness and mayhem caused by the young Finnish band  "Lost Society" was worth to see. I mean, that is a band that won 3 casting shows and gained the second place behind "Children of Bodom" in the national Metal-Awards. And these guys are 18, 19 years old. Of course, they played old-school Thrash Metal from mid-80s to 90s, but they played it with such o lot of energy, with an incredible stage-acting, headbanging, jumping, with such technical skills and power, especially the drummer Ossi Panaanen. First I thought, it was Gene Hoglan on drums, no, it was a 19 year old Finnish maniac who was the power and speed-station for the band. Not to forget the two guitars with their massive rhythm and highspeed-soli and the powerfull voice of Samy Elbanna. They were close to the former Thrash Metal Band "Wehrmacht", the old "Legacy" and "Death Angel"
After 45 minutes, the madness, mixed by thrash, death and speed metal was over, the audience was groggy and happy about this show. Very, very good band, very sympathic band.
Setlist Lost Society
2.     Attaxic 
3.     N.W.L. 
9.     Fatal Anoxia 
10.  Terror Hungry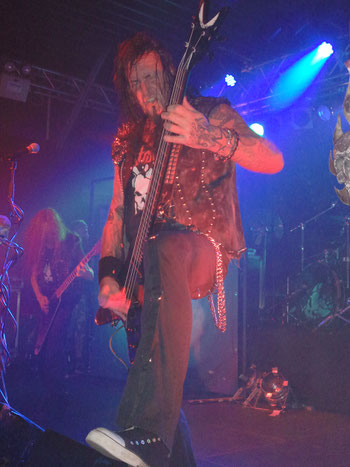 After this firework of death and thrash and speed and mayhem, Destruction entered the stage and personally said, they were and will be my favourite Thrash Metal-Band because there are too many stories connected with them. I first saw them in May 1985 on Swiss TV, two weeks later live on stage and another two weeks later as support from Slayer, and I knew them personally because they visited Rock- and Heavy Metal-Bars in my hometown. With all these feelings I saw them again after seeing them at the Hellfest 2011. And we didn´t get disappointed. The opener was "Total Destruction" followed by "Curse the Gods", "The Ritual", "Release of Agony", "Antichrist", "Black Death" and more. "Bestial Invasion" closed the regular set, 3 encores "The butcher strikes back" "Thrash Attack" and "Tormentor" finished the concert. I mean, nothing special happened on stage, "Schmier" on bass and vocals, "Mike" on guitar and "Vaver" on drums did their jobs, but it was the intensity of their doing, what made a great concert out of a usual concert. If you got caught in their groovy Thrash Metal beat, there will be no way out, you start to bang, to mosh and to slam an after 90 minutes it´s all over and you ask yourself: "Wow, has it already finished?" Our ears were ringing, our necks ached for three days, what a concert, and watch out for "Lost Society"!
Okay, I admit: I forgot to hear Entombed in the 90s because I heard t he first Deathmetal-Bands five years earlier and Kyuss, Rage against the Machine, Helmet did something new what I liked more than Deathmetal. I was wrong to ignore Entombed and Grave during the 90s, I learned during this concert in the "Feierwerk" in Munich. I think we missed another Swedish Thrashmetal-Band, so our concert started with "Grave". They were not in the best mood but they choosed their best song from each album. The best ones at the finish, like "Eroded" and "Into the Grave". It was just classic and brutal Deathmetal, but that kind of "I know the songs but it is always a surprise, what comes next". Their incredients for their Deathmetal came from the Heavy-Metal-History, like Thrash Metal, Doom or Black Metal.
I saw Entombed as support for Volbeat in 2010 and I asked myself, why they are on tour with Volbeat? During their concert at the "Feierwerk" I learned my next lesson: Entombed put more stuff from the rock history in their kind of Deathmetal, like Rock´n Roll in "Wolverine Blues", Punk in "Out of Hand", Moshparts in "I for an Eye". To feel their intensity and joy of playing just in front of you made this concert unforgettable. Vocalist Petrov did the Dr.Jekyll and Mr. Hyde on stage, banging guitar players, beer on the stage, screams from the audience to lift up the volume and the speed, sweating spectators like in the 80s, no circlepit, no stagedivers, no crowdsurfers, just mayhem and headbangig. We all were impressed by the unit in this band, their incredible sound, their power their joy to play in front of real maniacs and nerds.
Despite ear protectors I got ringing ears for four days, despite a lovely neck massage from my wife I had a pain in the neck. Now I know what I had missed 25 years ago when I ignored Entombed.
Setlist Entombed A.D.
1.     Kill to Live 
2.     I for an Eye 
5.     Living Dead 
8.     To Ride, Shoot Straight and Speak the Truth 
9.     Out of Hand 
10.  Wolverine Blues 
11.  Chaos Breed 
12.  Damn Deal Done 
13.  Left Hand Path 
14.  Encore:
17.  Supposed to Rot 
18.  Serpent Saints 
The second edition of this festival took place around the Feierwerk area in Munich. 3 stages, beer garden and include an exclusive line-up of well-known Stoner- and Psychedelic-Bands, presented by Sound of Liberation.
We visited the first day because we wanted to see how "Blues Pills" appeared on a club-stage. The first look around the audience made us suspicious; a lot of old-school and sophisticated looking old people who read the reviews about "Blues Pills" in the daily press. I mean, if people at the age of 60 years prefer a band of twens, there must be something wrong. Usually it´s vice versa.
Okay, let´s start the first evening with "The Arkanes" from Liverpool wearing "FC Liverpool" football shirts and pretend to play something new. They mixed some british Hardrock from "Budgie" or "Thin Lizzy", with some "Cream" and some "Stones". It quickly went boring so we waited for "Vintage Caravan" from Iceland. 
Do you remember Public Enemy´s well known slogan "Don´t believe the hype?" I believe in this slogan. First of it all, we were deeply impressed by "Blues Pills" at this year´s Hellfest. What a guitar, what a voice, what a drums and what a wall of bass. Four months later, same band, same songs, the band even closer to see than at the Hellfest and we felt very disappointed about this performance and the music. "Blues Pills" is a group of wannabees, she wants to be Janice Joplin, he wants to be Jack Bruce, he wants to be Ginger Baker and of course he wants to be Jimi Page, Eric Clapton and Jeff Beck in one person. Nothing new happened here, because heard that kind of music so many times, so it´s not that new and exciting how a young band should be. It´s a clever idea to make music for old people because they´ve got the money to buy the records and the money to go to concerts. Clever, but not with us.
Setlist Blues Pills
3.    Dig In 
6.    Astralplane 
7.    Bliss 
8.    Elements and Things (Tony Joe White cover)
9.    Devil Man 
10. Little Sun 
11. Black Smoke 
The concert was like a ride on a bulldozer or a tank; we stepped in this vehicle called "Orange Goblin" and rolled all the landscape down. Under the command of the huge and sympathic singer Ben Ward we cruised from the opener "Scorpionica" through "Acid Trails", "Bloodzilla", and "Bloodhex" and so on. To start the concert with "Scorpionica" was like starting a concert with "Ace of Spades" in 1981 by Motörhead. There were no great musical differences between the songs, but the band´s intensity on stage, their charismatic stage acting was that attractive, so we went sorry that it finished after 45 minutes. What a show!! It was like a Motörhead-concert: nothing special happens on stage but if you like that kind of music, you don´t need dragons and flames and monsters on stage.
Setlist Orange Goblin
1.     Scorpionica 
2.     Acid Trial 
4.     Sabbath Hex 
6.     Blue Snow 
7.     Some You Win, Some You Lose 
10.  The Fog 
11.  They Come Back (Harvest of Skulls) 
13.  Red Tide Rising
And if you think, there couldn´t be a better concert, with more atmospheric Doom-Metal, with guys like Dave Chandler and Wino Weinrich at the front and the huge, sumo-wrestler looking drummer Henry Vasquez as powerstation in the back. I mean, their music isn´t that complicated, Dave Chandler´s solos are consisting more from effects than from technical skills and a bass which went along the guitar isn´t that exciting. But what made this concert so special? It was the entire band, the pioneers in Doom-Metal, their proud about their invented style in heavy music. All equipment was suited for this kind of music: even Chandler´s ESP guitar had to crash so he could use a Gibson SG with a far better sound. The light was brilliant, superbly timed on the music and the rare movements of the musicians; the sound was clear loud and brilliant too.  Wino didn´t need to do great things on stage, just acting like a rockstar, hanging on his microphone and letting his hair hang down.
Nothing diverted from the music and the band, even no crowdsurfer and no stagediver.
You have to see both bands on stage because modern equipment creates a far more better sound than so called vintage/retro sounds and: they had really personality.
Look out for them!!
7.     The Troll 
10.  H.A.A.G. 
11.  Dying Inside 
12.  Clear Windowpane 
13.  Born Too Late 
I really like some Anvil songs like "March oft he Craps", "Motormount", "666", "Jackhammer", "Forged in Fire" and they played those songs in one row. So I could easily decide to leave the venue.
And I recognized why Anvil were those losers during the last 30 years: they really invented Speedmetal with those mentioned songs, but in fact they always were a Hair Metal Band and this inconsequence led to this legendary vacuum of unsuccessfulness.